EXECUTIVE BOARD MEMBER/CHAIRMAN: MASTER GEORGE E. MATTSON
Uechi-ryu Grandmaster George E. Mattson is rightfully considered a martial arts pioneer and author. Leads the International Uechi-ryu Karate Federation. First American to earn a Uechi-ryu Black Belt Certificate and known as the first American to bring Uechi-ryu from Okinawa to America.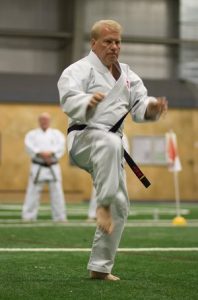 ---
EXECUTIVE BOARD MEMBER/PRESIDENT/TREASURER: DAVID BERNDT
David Berndt has been practicing Martial Arts since 1965, starting in Isshin-Ryu. He currently holds the rank of Shichi-Dan and the Titles of Shihan and Kyoshi, awarded by his direct Sensei, Grand Master George E. Mattson, and IUKF. He also holds Dan rank in Isshin-Ryu and Gushi-No Kobudo. He had been the Treasurer of IUKF for 8 years and a Director.

Assistant to the PRESIDENT: SHIHAN TOM BENTLEY
Tom Bentley serves as the Assistant to the President of the South China Martial Arts Alliance. Sensei Bentley holds dan rankings in karate, ju-jutsu and kobudo. He currently holds the rank of hachidan and has been awarded the titles of Shihan and Hanshi.

Advisor to the Chairman of the Board
Daniel DelSonno
Kyoshi Daniel DelSonno began his martial arts training in 1965 with the ROK military in Korea. After returning from Korea, he began studying Shorin-Ryu in 1973. Since the passing of his Sensei, he has held the rank of Go-Dan, awarded in 1985.
Daniel studied Tai-Chi Chuan from 1983 to 1985.
He started studying Small Circle Jiu-Jitsu and Kendo in 1984. Currently ranked at Nana-Dan. Affiliated with Tony Palmore, the James Johnson's, senior and junior of Key Largo.
Daniel is now President of his company working in venture capital and private investor projects.